Hiring Event
Campbell Concrete & Materials has numerous locations across the Houston area. We offer our customers quality concrete, quick response times and attentive service. We are leaders in the Houston area for new technology on our trucks and provide a customer app that tracks their concrete trucks and pours in real time. This helps our customers increase efficiency on their job sites.
It can be exciting to become a part of Houston's major construction projects, and joining a ready mix concrete company is an excellent way to make your mark on our community. Concrete touches nearly all construction projects and it is an industry growing with opportunity! If you're looking for a solid foundation to build your career, it's time to join the team at Campbell Concrete & Materials, an affiliated company of Lehigh Hanson.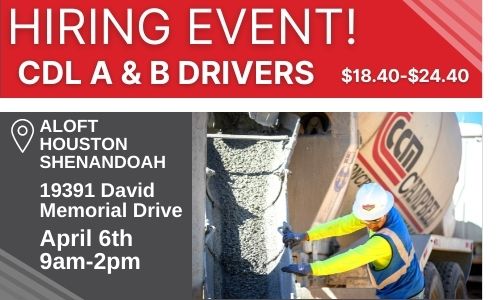 Aloft Houston Shenandoah- April 6th 9am-2pm
Campbell Concrete & Materials is looking for qualified CDL A & B drivers to hire on the spot! Company benefits include $2000 Sign-on Bonus, On-the-job Training, Paid Holidays, Weekly Load Bonus, Competitive Company Benefits, Vacation & 401k Contribution!
We are hosting a hiring event at the Aloft Houston Shenandoah on April 6th, 2022. Drop by any time between 9am and 2pm to apply, interview, and get hired!
Applicants can apply head of time, or in person at the event. If hired, applicants should expect to be sent for DOT physical and employment drug test. See our Campbell Driver Rates 2022 for this position.
Don't Have a CDL? Want One? Join our CDL Training Program
Campbell Concrete is now recruiting jobseekers interested in obtaining a CDL license to join their training and apprenticeship program. No experience required! Getting a CDL can elevate your career to the next level, and open up your future job search to new opportunities.
Contact Our Hiring Managers
North Houston (Spring, Humble, Conroe):
Scott Baker; (832) 802-3238; Scott.Baker@LehighHanson.com
Southeast Houston (Pearland, Pasadena, Baytown):
Guillermo Hernandez; (832) 361-1381; Guillermo.Hernandez@LehighHanson.com
Central/West Houston (JV, Katy, Magnolia, Hardy Toll):
David Weeks; (346) 666-1677; David.Weeks2@LehighHanson.com
Southwest Houston (Sugarland, Arcola, Rosenberg, Stafford):
Jose Guevara; (214) 534-8754; Jose.Guevara@lehighhanson.com