Inland in the Community
Inland is actively involved in our local communities. We do more than help build them – we help our communities reach their full potential.

WEST COUNTRY HEARTH ATTACK
The
West Country Hearth Attack
is a fun way of rallying families in support of their community. The event pushes its participants to navigate obstacles to reach a finish line, but ultimately, it's what the event supports that makes it so meaningful. Community members from Villeneuve, including Inland employee Dale Soetart, participate in this race to raise funds for the
West Sturgeon People Aging in Place Foundation
. The Foundation is a non-profit that owns and operates
West Country Hearth
, an assisted living senior's complex in Villeneuve. Before this facility came to be, Villeneuve seniors were being displaced from their home town into senior's homes in other cities. Dale Soetart's grandmother was no exception, so the Soetart family and other Villeneuve community members worked together to ensure a local facility was available to their community's seniors. Dale's dad helped with the construction, Dale's mom continues to volunteer at the facility, and Dale's grandma is now a happy resident there, keeping within a close distance of her family. The Soetaert cousins use their property to host the West Country Hearth Attack, where in 2017 the funds raised helped fund Harmony Haven II, an added dementia unit to West Country Hearth.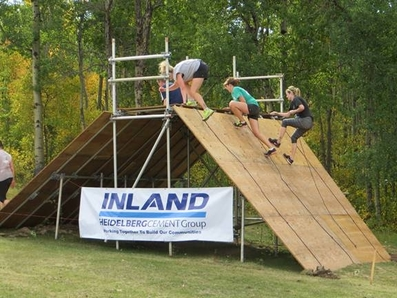 PAWS IN MOTION
The Paws in Motion event gathers local pet owners and their pets to take a walk to support the Winnipeg Humane Society (WHS) and their mission "to protect animals from suffering and to promote their welfare and dignity." What better way to fundraise and raise awareness than doing Zumba with your dog? This fun event features a raffle draw, princesses, clowns, live music, games, and a free dental check-up for your pup at the WHS Veterinary Clinic tent. Since 2006, Lehigh Cement has been proud to sponsor the event that works towards "a future where no dogs, cats, or critters need to suffer from hunger, homelessness, or neglect." Our Lehigh Hanson affiliate companies: Lehigh Cement, Inland Concrete, Inland Pipe, and Inland Aggregates are all proud supporters of this event.
ART RELOCATION PROJECT
The Builders is a twenty-one feet high sculpture — and very, very heavy. When its home of 30 years at Husky-Trizec's Western Canada Place was redeveloped, the new owners decided that they wanted to put the piece in storage. When the news reached the sculptor — George Pratt — he immediately considered trying to bring it home to Vancouver. Ocean's Larry Baloun considered the logistics. He suggested that The Builders make a slightly shorter journey across Calgary to the Inland Concrete facility in Ramsay. Accordingly, in 2017, the sculpture was brought out of storage and reassembled. Today, The Builders is highly visible on its new high-traffic site, thanks to the hard work of the team at Inland Concrete. Read more in the 2017 Community Report
MEET A MACHINE
In September of 2017, Inland Concrete participated in the
Juvenile Diabetes Research Foundation (JDRF)
Meet a Machine event in Edmonton. Here families get to view and interact with a variety of agricultural, industrial, and construction equipment. Inland displayed our very own Edmonton Eskimos concrete mixer truck in support of the cause! Meet a Machine is important in helping fund JDRF's research to cure type 1 diabetes (T1D). Over 300,000 Canadian children, adolescents and adults living with T1D. JDRF is driving research to improve the technology people with T1D use to monitor blood sugar levels and deliver the proper doses of insulin, as well as its mission to deliver a cure.
JESSICA BROWN MEMORIAL SCHOLARSHIP
Jessica Brown passed away in a highway accident on her way home from work in Gimli, Manitoba in July 2014. Jessica was the daughter of Rick Brown, Transportation Supervisor with Inland Aggregates in Springfield. To honour her memory, and to support their colleague, team members at Inland created the Jessica Brown Memorial Scholarship at Gimli High School, where Jessica had graduated in 2013. The $500 scholarship was established in 2015 to recognize the most outstanding female and male graduating students at Gimli High School. Read more about the recipients in the 2017 Community Report.
ALBERTA BAROQUE MUSIC SOCIETY
The famous tunes of Vivaldi, Bach and Handel can be heard from the Robertson-Wesley United Church in Edmonton's Oliver neighbourhood. The tradition of live performance in the baroque style is kept alive by The Alberta Baroque Music Society, the non-profit behind the Alberta Baroque Ensemble. In March 2017, concert-goers enjoyed the ensemble's Duo Flutes Concert, co-sponsored by Inland Concrete. Read more in the 2017 Community Report.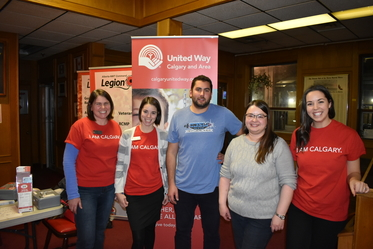 2017 INLAND CHRISTMAS GIVING CAMPAIGN
Building our communities is at the heart of what we do, and that's reflected in the way Inland employees give back. The 2017 Inland Christmas Giving Campaign introduced three great initiatives that encouraged all of Inland's Calgary employees to get involved. The "Inland-a-Palooza" was held as a fundraiser for Calgary's United Way. This musical event brought together employees, clients, and community members to enjoy tunes covered by local bands; one of which featured our own employee, Marcello Castronuovo. Our Vintage Park Office employees continued the participation with the Adopt-a-Family Program that partners with a charity to help families check off their Christmas wish lists. The giftwrapped presents donated by employees make their way under a family's Christmas tree thanks to Evenstart, an organization that supports a local special needs school. To wrap up the holiday giving, we called on our employees to donate non-perishable food items alongside a Lehigh Hanson corporate donation to the Calgary Food Bank. Together with our employees, we're working together to build our communities