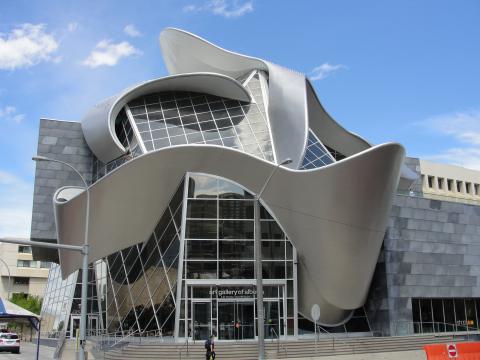 THE ART GALLERY OF ALBERTA
Edmonton, Alberta
PROJECT FACTS
Concrete Volume: 2,500 cubic meters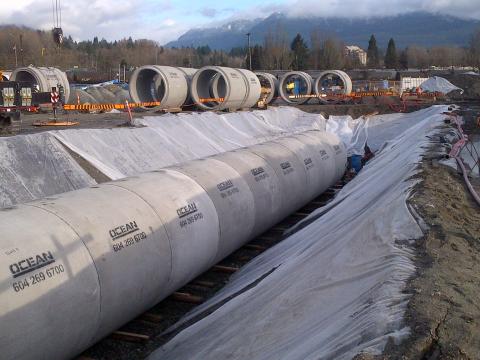 NEPTUNE TERMINAL ESCAPE TUNNEL
North Vancouver, British Columbia
PROJECT FACTS
Unique Facts: 57.5 metres of 2400 mm diameter concrete pipe
Project Facts: Concrete pipe used as an emergency escape tunnel from a bulk storage building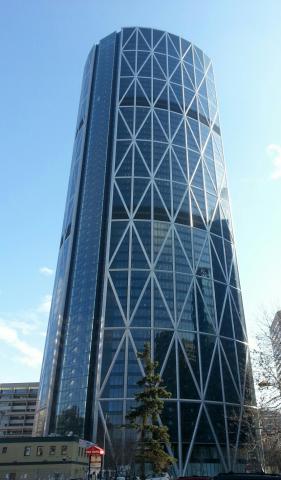 BOW TOWER
Calgary, Alberta
PROJECT FACTS
Third largest continuous pour of all time: 13,800 cubic meters, 110,000 cubic meters total, 36 hours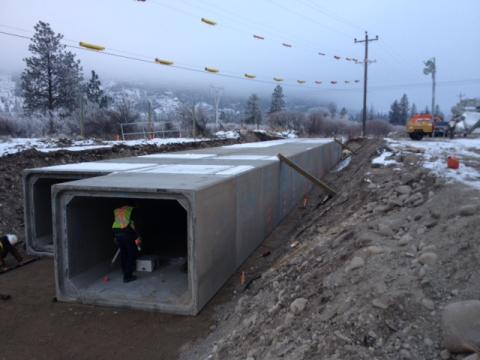 MACINTYRE CANAL BOX CULVERT REPLACEMENT
Oliver, British Columbia
PROJECT FACTS
Unique Facts: 1,600 tonnes of 2400mm x 1800mm box culvert
Project Facts: Box culvert used for highway crossing of a drainage canal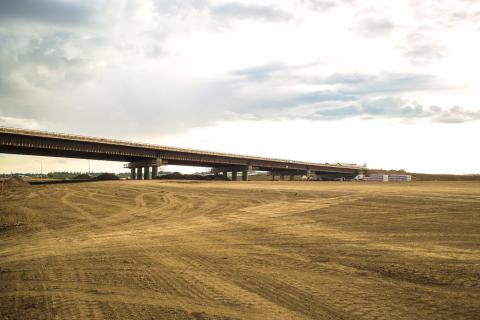 41ST AVENUE HWY 2 INTERCHANGE
Edmonton, Alberta
PROJECT FACTS
Aggregates Used: 400,000 metric tonnes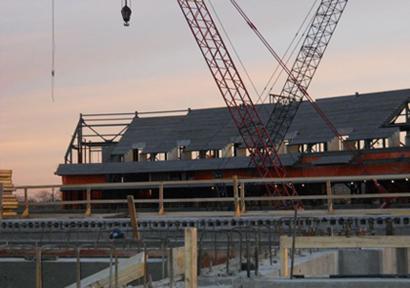 BOMBER STADIUM
Winnipeg, Manitoba
PROJECT FACTS
Aggregates Used: 25,000 metric tonnes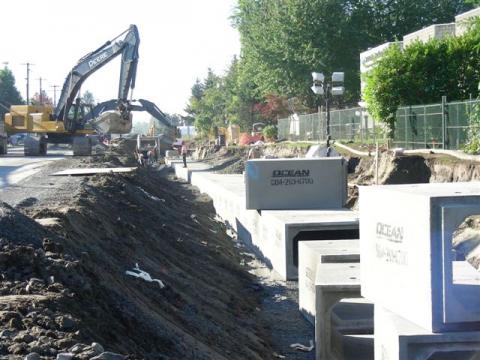 BROADWAY STREET RECONSTRUCTION
Port Coquitlam, British Columbia
PROJECT FACTS
Unique Facts: Over 1.8 kilometers of precast concrete box culverts
Project Facts: Precast concrete box culverts for ditch infill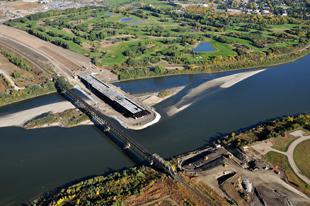 Circle Drive
Saskatoon, Saskatchewan
PROJECT FACTS
Inland Aggregates: 3 million tonnes
Inland Concrete: approximately 40,000 cubic meters of concrete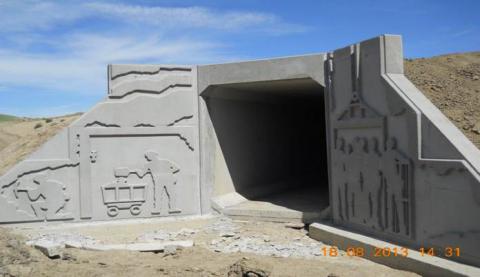 SCENIC DRIVE PEDESTRIAN OVERPASS
Lethbridge, Alberta
PROJECT FACTS
Box Culverts: 65 metres of structurally engineered box culverts, with inside dimensions 3.0m x 2.4m
Headwalls: Two headwalls, each 16 ft long x 12 ft high
Scenic Drive, a major road in Lethbridge, underwent a 1.7 kilometre extension including a pedestrian underpass. Using Inland Pipe's CNC machine, designs depicting mine shafts and miners at work were milled out of Styrofoam and used by deGraaf Excavating to cast into the surface of cast-in-place concrete headwalls at each end of the pedestrian underpass.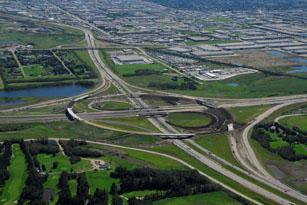 ANTHONY HENDAY DRIVE NORTHWEST
Edmonton, Alberta
PROJECT FACTS
Aggregates: 800,000 metric tonnes
Anthony Henday Drive Northwest connects the Yellowhead Trail in west Edmonton to 66 Street in east Edmonton — a vital transport link for the city.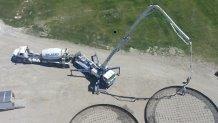 GLENWOOD 50,000 BUSHEL BIN PADS
Glenwood, Alberta
PROJECT FACTS
Concrete for the project was delivered from Lethbridge and was pumped by Inland Concrete. The project was completed on one of Inland Concrete Lethbridge's busiest production days; nearly 455 cubic meters of concrete.
The two bins pads requiring 50 cubic meters each of concrete are located in a remote location southwest of Lethbridge, Alberta. The completed bin pads will hold 100,000 bushels of grain.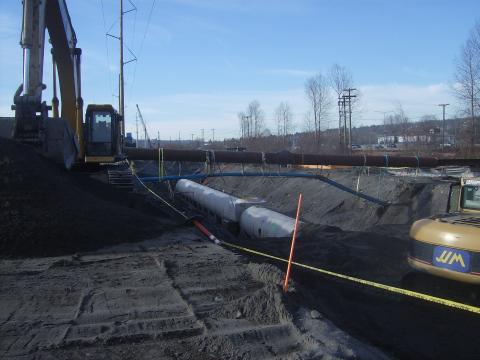 PORT MANN BRIDGE-HWY 1
Greater Vancouver, British Columbia
PROJECT FACTS
Unique Facts: Over 8,000 tonnes of concrete pipe, manholes and catch basins
Project Facts: Pile-supported HDPE-lined concrete pipe; miscellaneous precast products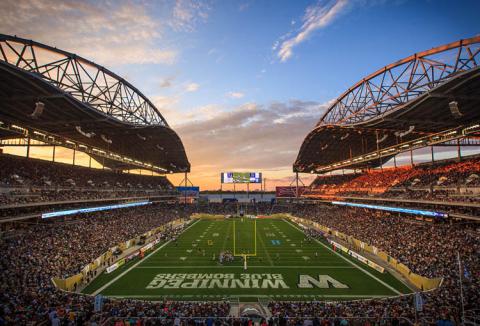 INVESTOR'S GROUP FIELD OUTFALL
Winnipeg, Manitoba
PROJECT FACTS
Products usage: Over 500 metres of 1050mm ppe, various large diameter manholes, and a 3000mm diameter pump station
Investors Group Field is a 33,500 seat football stadium that is home to the Winnipeg Blue Bombers and University of Manitoba Bisons. Completed in time for the start of the 2013 CFL season, the project included an extensive land drainage system.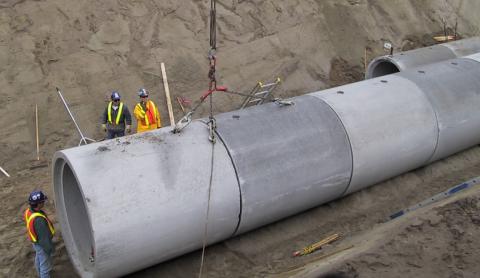 YYC RDP
Calgary, Alberta
PROJECT FACTS
Concrete Pipe: Approximately 19 kilometres of Class V pipe supplied, in sizes up to 2400mm diameter
Jacking Pipe: Roughly 250 metres of large diameter jacking pipe installed under taxiways and structures
Manholes: Over 150 various sizes and types, including oversized box manholes in the apron area
Cost: Cost savings were achieved in several areas, including the use of standard stock products as an alternative to custom wet cast structures
YYC's fourth runway will be the longest in Canada, at over 4 km, to accommodate the largest planes in the world.