Lehigh Cement in Mitchell, Indiana, recently donated $40,000 to the Marion Township Fire Department and $40,000 to the Mitchell Volunteer Fire Department to help them purchase emergency rescue equipment and a new rescue/hazmat vehicle. With Lehigh's K4 project almost complete and the new plant close to being finished, the timing for adding new equipment couldn't be better.
"Lehigh appreciates the partnership we have with the Marion Township Fire Department and the Mitchell Volunteer Fire Department and we are very supportive of the important role they play in the community," said Tracy Crowther, Lehigh Cement Plant Manager. "We are pleased to be able to contribute to their efforts as they expand their rescue equipment and improve their ability to provide assistance to our new plant if needed."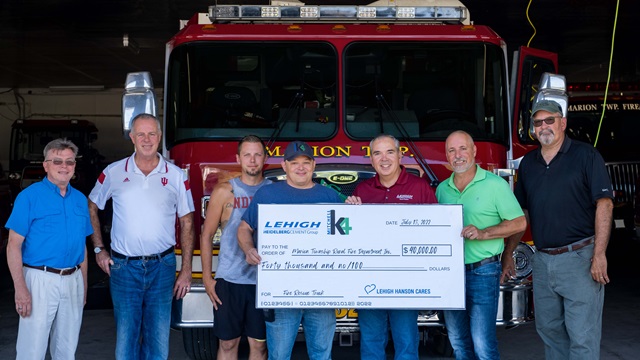 Lehigh Hanson and its operations across North America are committed to giving back to the communities where they do business. Through the Lehigh Hanson Cares program, the company works diligently to fulfill its vision of Simple Actions Build Strong Communities by supporting initiatives in local communities and focusing on Arts and Education, Environment, and Health & Well-being. The Lehigh Hanson Cares program was established to form a structured and cohesive platform to drive community engagement across the company, while also promoting and supporting employees who donate time and monies to non-profit, charitable organizations.