Ocean in the Community
Ocean is actively involved in our local communities. We do more than help build them – we help our communities reach their full potential.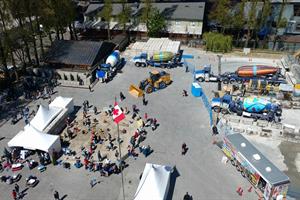 Ocean Concrete Granville Island Annual Open House
As the oldest and largest tenant on Granville Island located in the heart of Vancouver's original townsite, we love to introduce our community to the world of concrete every day, and open our doors annually for a community open house.
For one day each year, tourists and Vancouver residents alike are invited to explore the site, and the history of the operation on the island. With activities and tours for the entire family, the event is a highlight every year.
The company is part of the fabric of the community, bringing a slice of heavy industry into an area that attracts tourists as well as Vancouverites to a cultural, culinary and shopping hub.Ocean's support of the artistic side of Granville Island extends to its colourful silos, spray-painted by Brazilian street artists OSGEMEOS as part of the 2015 Vancouver BIENNALE, and brightly wrapped ready-mix truck drums: The Harvest Series features a corn cob, a strawberry and a bunch of asparagus! Ocean Concrete has been a tenant on Granville Island since 1920 and has a lease that runs to 2046.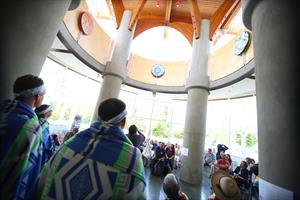 LEGACY OF QIQÉYT VILLAGE PUBLIC ART INSTALLATION
Ocean Concrete added a state-of-the-art 200+ meter per hour plant to its roster at its operating site in Surrey, BC. As part of Metro Vancouver operations, the plant will provide support to Ocean Concrete, Rempel Bros. Concrete, and Allied Ready Mix Concrete customers.

The site is the former qiqéyt fishing village for the Kwantlen and Musqueam people from as far as Nanaimo and Squamish, British Columbia and Lummi, Washington and has existed since time immemorial.

The areas of South Westminster and New Westminster were important meeting places for nations up and down the Fraser River and Vancouver Island. Fishing, fish processing, dwelling, trade, conflict and early settler contact all took place in and around qiqéyt in South Westminster.

Kwantlen Chuck Bailey Art Installation
In recognition of the site's history, Ocean Concrete, a division of Lehigh Hanson Materials Limited funded the commissioning of drums at the Chuck Bailey Recreation Centre by artist Brandon Gabriel, and a permanent sculpture at the entrance to the plant by artists Drew Atkins and Phyllis Atkins.

Kwantlen Basket Surrey Plant Art Installation
An art unveiling ceremony held on May 30, 2016 celebrated the history and significance of the First Nations community; the ceremony was a collaboration between the Kwantlen First Nation, the City of Surrey and Ocean Concrete. We appreciate the symbolism captured by the art that incorporates and meshes historical significance of the land with current land use. Read more in our 2016 Community Report.

WALK SO KIDS CAN TALK
Lehigh Hanson Canada Region and our employees are proud to support BMO's Walk So Kids Can Talk 5km fun walk. Lehigh employees participated in Vancouver, enjoying a family day out and building community-- all while supporting a vital service for vulnerable young people. The funds raised ensure that Kids Help Phone services are always open to provide a safe and trusted place for kids to talk about their day-to-day worries or to seek help in a crisis. Ocean Concrete sponsored the Vancouver event in May of 2016 and 2017 and employee Rodney Hicks raised over $4,000 on his own in 2017. Read more in the 2017 Community Report.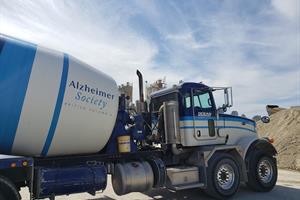 MIXER TRUCK DRUM LOGO
For over 10 years Ocean Victoria has supported the work of local charities, allowing drivers to display their favorite charity's logo on their mixer drum. Recently charity logos added to our mixer fleet include: the Canadian Cancer Society, the Victoria Cool Aid Society, the Leukemia and Lymphoma Society, the BSPCA and BC Mental Health.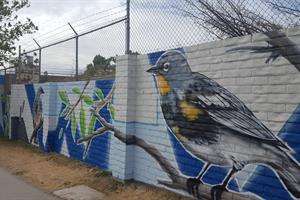 "CONCRETE CANVAS" MURAL PROJECT
Ocean Concrete is one of 40 businesses that donated concrete wall space to the City of Victoria's "Concrete Canvas" project – an effort to reduce graffiti by replacing blank concrete walls with murals. Local artists Calvin Coles and Kerri Flanagan painted colorful murals of Vancouver Island birds and flowers.

"The Concrete Canvas mural project was an opportunity to collaborate with the business and arts community to transform the Rock Bay neighborhood into an outdoor art gallery. Building these unique partnerships strengthens the social and economic fabric of our community. Thank you to Ocean Concrete for stepping up and supporting this project in our community for all to enjoy." – Mayor Lisa Helps, City of Victoria.