Community
Contributing to the community is a core value at Fairburn Ready Mix, Inc. We partner with many local charitable organizations to provide support to their valuable causes.​​​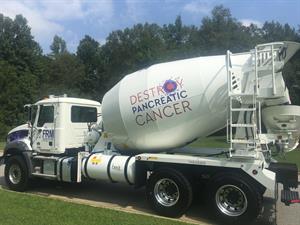 Destroy Pancreatic Cancer Truck
Destroy Pancreatic Cancer and Research Foundation, Inc. is a non-profit organization whose goal is to fund and advance research that leads to earlier detection and improved treatment options for pancreatic cancer patients. In support of their passion to find a cure for pancreatic cancer and to raise awareness, Fairburn Ready Mix created a ready mixed concrete drum wrap .
The City of Tyrone
Fairburn Ready Mix sponsors several community events in the city of Tyrone. Most recently, Fairburn sponsored the Tyrone Founders Day Festival which included a firework show.