COMMUNITY
Contributing to the community is a core value at Gulf Coast Stabilized Materials. We partner with many local charitable organizations and schools to provide support to their valuable causes.​​​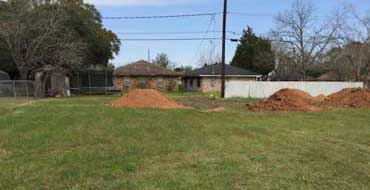 Habitat for Humanity - Rosenburg, Texas
Gulf Coast Stabilized Materials partnered with Habitat for Humanity by providing donations of select fill and stabilized​ sand. The donated Select Fill was used to shape the grounds before pouring the foundation and sand was used to stabilize the grounds around utility pipes.

Guitars & Cars Event
Gulf Coast Stabilized Materials participates as a sponsor in the annual Guitar & Cars fundraiser supporting area veterans. The program provides services to homeless and at-risk veterans and supplies housing for hundreds of veterans who are homeless or disabled.

Safety Day Picnic
Our involvement with the local community is built upon our primary commitment to the wellbeing of our team members and their families. Each year, Gulf Coast Stabilized Materials hosts a Safety Picnic, where our team members and their families are invited to a plant site for a fun event.
The event provides a first-hand look at our operations and the importance of our safety culture. Read more about our Safe Life culture.

Region-Wide Outreach
Gulf Coast Stabilized Materials partners with many local organizations in a variety of ways. We are honored to lend our support, whether through sponsorships, donations, or volunteerism. Below are a few of the local charitable organizations we are proud to support.