Ethics & Compliance
At Heidelberg Materials North America, we believe a successful company is not only characterized by market presence and operational excellence but also by a strong company culture. A key aspect of our company culture is a commitment to lawful and ethical conduct. We expect all of our employees to demonstrate the highest ethical standards and apply them in all of our business activities.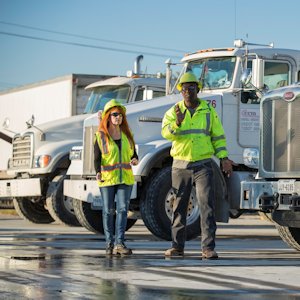 ​Code of Business Conduct
As part of the Heidelberg Materials, the North American branch and its affiliated companies have adopted Heidelberg Materials' "Code of Business Conduct" and the "Group Anticorruption Guideline" and requires employees to comply with these policies. Managers have the additional responsibility of fostering a culture in which compliance with these policies and applicable law is at the core of our business activities.
Strong ethics and high legal standards in all our business activities are fundamental for the future success of Heidelberg Materials and its employees. Click here for more on Heidelberg Materials' Code of Business Conduct. In North America, employees must also comply with additional policies that supplement the Global Policies and adapt them to the legal environment in North America and, in certain instances, provide more specific compliance direction. These supplemental policies apply to all employees in North America. Read the North American supplemental policy here.
Ethics and Compliance Hotline Reporting System
As part of Heidelberg Materials' commitment to a safe workplace and compliance with company policies, applicable laws, and international ethical standards, we offer our employees – as well as external parties such as suppliers and customers – the ability to report concerns regarding any kind of improper, unethical, or unlawful behavior to a third-party ethics and compliance hotline reporting system. Go to https://www.speakupfeedback.eu/web/heidelbergcement/us or call 1-866-250-6706 to submit a report using the access code 18075.
Antitrust Policy
The Company's policy is to compete vigorously and fairly and in compliance with applicable antitrust laws. All Company employees are expected to comply with the antitrust and competition laws and this Policy. No supervisor or management employee has the authority to direct or approve any action by a Company employee in violation of these laws or this Policy. Read the Company's antitrust policy here.
California Transparency in Supply Chains Act Disclosure
The California Transparency in Supply Chains Act of 2010 requires certain retail sellers and manufacturers doing business in California to disclose their efforts to eradicate slavery and human trafficking from their direct supply chains for tangible goods offered for sale. Heidelberg Materials North America and its affiliated companies doing business in California, as well as all other companies making up the Heidelberg Materials company, are committed to complying with international social and environmental standards. These standards are set forth in the Heidelberg Materials Sustainability Report and the Heidelberg Materials North America Supplier Code of Conduct.
Almost all of the products sold by Heidelberg Materials companies in North America are produced or manufactured using raw materials and products obtained locally from the company itself, Heidelberg Materials North America affiliate, or a third-party supplier. Taking into account company policies, social norms, and federal, state or provincial, and local laws, it is highly unlikely that slavery or human trafficking are implicated in these local supply chains. The verification of these product supply chains is conducted within the Heidelberg Materials organization.
For the handful of raw materials obtained from foreign suppliers, such as gypsum, iron ore, and bauxite used in manufacturing portland cement, the number of suppliers is small – no more than a dozen or so – and the suppliers can be evaluated for compliance with company standards on an individual basis without the need for independent, unannounced audits. At times, portland cement is itself imported from foreign affiliates or a small number of suppliers. Again, the number of suppliers is small and they can be evaluated for compliance on an individual basis.
In any event, suppliers are bound, directly or indirectly, by the requirements of the Heidelberg Materials North America Supplier Code of Conduct. These requirements are implemented by certifications from direct suppliers and/or contractual provisions in purchase orders or agreements with direct suppliers, all of whom are required to exercise diligence in verifying that the Supplier Code of Conduct is adhered to by their own suppliers.
Employees and managers are subject to discipline, including termination, for failure to abide by Heidelberg Materials policies, including failure to observe company standards regarding slavery and human trafficking. Contractors and suppliers are subject to having their contracts with Heidelberg Materials terminated should they violate the Supplier Code of Conduct.
The relatively few company employees and managers with direct responsibility for supply chain management are in Heidelberg Materials' purchasing department. All of these employees and managers receive regular training in the Heidelberg Materials Code of Business Conduct. Supplemental training on human trafficking and slavery and mitigating risks within the supply chains of products is offered as part of regular meetings of the purchasing department.
ESTMA Reports
The Extractive Sector Transparency Measures Act delivers on Canada's international commitments to contribute to global efforts to increase transparency and deter corruption in the extractive sector.
Accessibility for Ontarians with Disabilities Act, 2005
Click the link below to view Heidelberg Materials' 5-year AODA plan.