Sustainability
Heidelberg Materials is committed to operating in a safe and environmentally responsible manner. Heidelberg Materials actively advocates for the use of resilient construction materials and supports sustainable construction practices.

We advocate for science-based research to drive innovation and deliver long-term results. Our labs are busy working on the next generation of sustainable building materials that will have a lower environmental footprint and bring us closer to our net zero goal. As we invest in research, the majority goes towards our goal of carbon neutral concrete by 2050. Our capital investments in more efficient equipment and new technology help us stay competitive and reduce our reliance on energy and water.
Heidelberg Materials is committed to supporting Green Building Councils and local and national industry trade associations to lead the development of sustainable solutions for built environments. We believe that a collaborative effort with stakeholders is a quicker path to developing new technologies that can make an immediate impact to lower Global Warming Potential (GWP). In 2020, Heidelberg Materials- North America made an investment in more bench marking and increased transparency for environmental impacts as we began publishing more product environmental product declarations (EPDs).
Revolutionizing the Cement Industry with Carbon Capture
See more about our CCUS project in Edmonton and learn more about how we can shape a better world through innovation, sustainability, and a shared commitment to a Net Zero future.
Sustainability Commitments 2030
Heidelberg Materials' Sustainability Commitments for 2030 define the key topics and core principles of the sustainability strategy at our parent company, Heidelberg Materials. We have aligned our Sustainability Commitments with the UN's Sustainable Development Goals (SDG). The SDGs aim to end extreme poverty, fight injustice and protect our planet with 17 goals set out for 2030.
The Sustainability Commitments for 2030 are organized into six key principles that encompass the SDGs goals.

Driving Economic Strength and Innovation

"We will ensure sustainable profitability through the effective management of all processes and resources and the continuing innovation of products and services."

Reducing our Environmental Footprint
"We are committed to fulfilling our share of the global responsibility to keep temperature rise below 2°C, and we will continue to reduce our impacts on air, land and water."

Achieving Excellence in Occupational Health & Safety
"We are committed to continuously enhancing the occupational health and safety conditions of our employees, contractors, and third parties."

Enabling the Circular Economy
"We conserve our natural reserves by continuously increasing the use of alternative resources as substitutes for natural raw materials."

Being a Good Neighbor
"We are committed to supporting the social and economic development of our neighboring communities and ensure transparent communication to all our stakeholders."
Ensuring Compliance and Creating Transparency

"We adhere to international human rights, anti-corruption and labor standards and co-operate pro-actively in an open and transparent manner with all our stakeholders."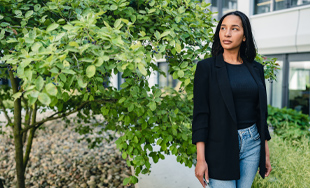 Sustainable Construction
At Heidelberg Materials, we are committed to delivering building materials which contribute to the welfare of our society today, tomorrow, and beyond. A large part of that commitment involves promoting sustainable construction wherever and whenever possible.
Heidelberg Materials is an early leader in sustainability through its participation in the Cement Sustainability Initiative (CSI). We're dedicated to providing sustainable cement, concrete, and other building materials that have a positive impact on society and the environment – both during and after their service life.
We work hard to reflect this commitment in as many ways as we can:
• Promoting best practices in sustainable construction
• Continuously working to improve energy efficiency in the production and transportation of materials
• Ensuring durability, especially in projects where product failure could impact the environment
• Adopting impact rating systems to set new benchmarks
• Continually investing in new technologies
• Finding innovative ways to take recycling and product life cycles to new limits