Specialty Sands and Soils for Sports and Recreation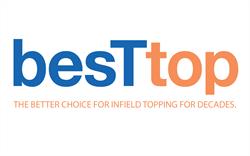 EAST COAST (NJ, NY, PA, DE, MD):

At select Hanson Aggregates locations along the east coast, we can deliver the right infield topping to meet your baseball field maintenance and construction needs. With more than half-a-century of experience in producing specialty sands, gravels, and clays, we have researched and developed a variety of infield toppings—one of which is just right for you.
Our besTtop products are made from clays that have been carefully prospected for the properties which distinguish a good infield. With all besTtop infield products you can expect freedom from large pebbles and coarse materials; high moisture retention, without balling and tackiness; high water permeability; resistance to dry caking; and, most of all, accurate and constant reproductive fineness, screen distribution, clay type and content, and compressive strength and cleanliness.
besTtop infield products are carefully blended when required, to maintain these properties. They are checked and inspected in our controlled laboratory to assure top quality on every order.
SPORTS AND REC PRODUCTS:
Regulation Infield
Regulation Softball Infield
Regulation Little League Infield
Girls Softball

Intermediate Field
For more information on besTtop specialty products, click here.