Concrete for Infrastructure
Infrastructure: Vital Connections
Concrete's classic qualities of strength and durability earned its long-standing reputation as the building block of society. It supplies our network of highways, streets, airports and water systems that serves our economy and lifestyle. Today, the challenge is to renew and expand this network with economical and sustainable solutions.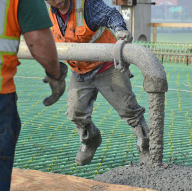 Applications
Bridges: Economical, versatile and long lasting are some of the reasons concrete dominates bridge construction. With 40% of bridges now 50 years or older, renewing this aging network becomes a top priority. Concrete can meet functional, aesthetic or safety criteria in any type of site or location.
Pavements: Best known for interstate highways and other high-volume roads, concrete pavements extend to city streets, rural roads, airports, parking lots and more. Concrete pavements are valued for greater energy efficiency and lower life-cycle costs than alternative materials.
Dams and Water Resources: Concrete forms the core of our vast network of water management infrastructure in the United States: More than 80,000 dams, thousands of miles locks and navigation channels, harbors and ports, and other facilities. As needs shift from new construction to repair and rehabilitation, concrete will continue to serve a vital role.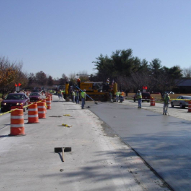 Trends
Flowable Fill: Also called controlled low-strength material, flowable fill is an alternative to soil or gravel for backfill, pipe bedding and road or floor bases. As the name implies, it flows into place and needs no compaction. Because it contains cement, it's less prone to subsidence than traditional fill and is stronger and less permeable. Strength is low enough that it can be excavated.
Pervious Concrete: When it rains, it drains. Pervious or porous concrete has the unique ability to form a solid pavement that supports traffic, yet allows water to drain through it. Because the water flows through rather than runs off, pervious concrete offers natural infiltration and eliminates the need for a drainage systems, storm sewers or retention ponds.
Overlays: One option for renewal of existing pavements is resurfacing them with a concrete overlay, often called "whitetopping." A new layer of concrete can extend the service life of roads and is a sustainable and economical alternative to total reconstruction. Concrete overlays can be placed on either asphalt or concrete pavements.