Residential Concrete
Residential: Beyond the Basement
Concrete use in homes was once confined to functional fundamentals: foundations and basements, sidewalks and driveways. But innovative products and a new level of craftsmanship have expanded applications beyond the basement.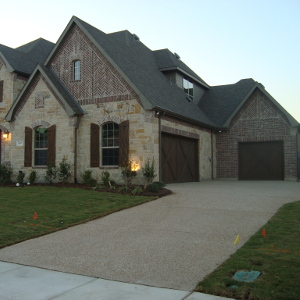 Applications
Foundations and basements: Concrete foundations can take the form of a simple slab-on-grade to a structural footing supporting both basement and above-grade walls. Basements offer inexpensive living space, storage and a room for home utilities such as the furnace and water heater.

Walls: Most concrete walls are cast in place, typically using removable steel or aluminum forms. Rigid foam is often sandwiched between forms for insulation. In another option, the foam insulation acts as the form itself. Called Insulating Concrete Forms, or ICFs, the foam stays in place after the concrete is placed to act as insulation.

Flatwork: Driveways, walks and patios are not just functional. They're also a landscaping feature. Concrete lends itself to a wide range of design options to create an architectural "hardscape."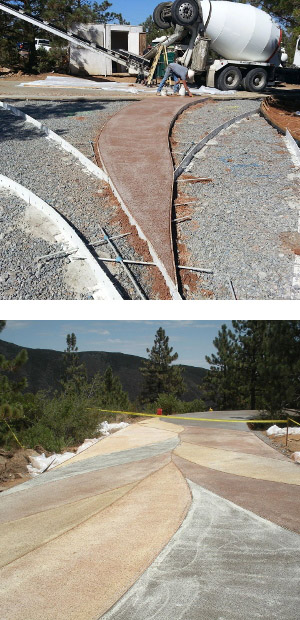 Trends
Decorative Concrete: Shape, texture and color convert ordinary concrete into a design element. Stamping tools create the look of slate, stone or brick. Add color by mixing mineral pigments into the concrete or trowelling them into the surface. For an exposed aggregate, finishers brush away surface mortar to reveal the stone or gravel in the concrete mixture.

Pervious Concrete: When it rains, it drains. Pervious or porous concrete has the unique ability to form a solid pavement that supports traffic, yet allows water to drain through it. Because the water flows through rather than runs off, pervious concrete offers natural infiltration and eliminates the need for a drainage systems, storm sewers or retention ponds.

Insulated Concrete Forms: With a system called Insulating Concrete Forms, or ICFs, workers pump concrete between two layers of rigid foam to create a strong, highly insulated and soundproof wall. Conventional finishes complete interior and exterior surfaces.