Projects
​​​Hanson Ready Mix is proud to serve residential, commercial and industrial clients with quality ready mixed concrete solutions. Whether your project is large or small, count on our team for total ready mixed concrete solutions in Western Ontario, Ontario East and Western Quebec.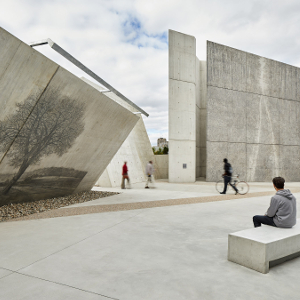 National Holocaust Monument
Hanson Ready Mix supplied more than 3,000 cubic meters of ready mixed concrete, including self-compacting concrete, for the construction of the National Holocaust Memorial in Ottawa, Canada.
The National Holocaust Memorial is a star-shaped enclosure with six points made of triangular concrete segments and triangular paving stones creating a space with room for 1,000 visitors.

The project received the 2017 Ontario Concrete Award in the Architectural Hardscape category.

This photo is attributed to Doublespace Photography.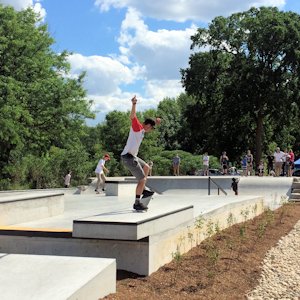 Skate Parks
With the increasing popularity of skate parks, Hanson Ready Mix has supplied concrete for a number of area skate parks, including this one in Guelph.
Parliament Hill - West Block Rehabilitation
This project commenced in 2007, with new construction starting in 2011 with completion in 2017. Specifications called for mix designs to meet CSA concrete classes from 20 Mpa to 35 Mpa, including many different applications, such as SCC, Shotcrete, Low shrinkage, Waterproofed, High-early and set-accelerating. AVS, RCP, Shrinkage and compressive strength testing were all successfully met. Mix designs contained a minimum of 20% slag cement replacement, with as much as 40% in the low shrinkage mixes. Mixes also include Type GUL, GUb-S-SF, and GUb-SF blends. Hanson Ready Mix supplied approximately 10,000 m³ of concrete to this project.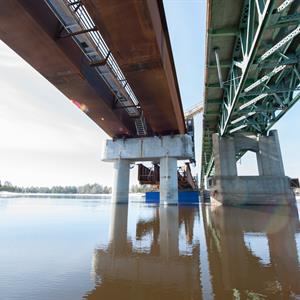 REPLACEMENT OF PONT ALLUMETTES BRIDGE
Originally completed in 1957, this bridge crosses the Ottawa River to link western Quebec with Ontario near Pembroke. The bridge is an important transportation corridor, carrying 5,000 vehicles per day.
In 2011, Public Services and Procurement Canada began a project to replace the bridge. Construction began in 2014 and was completed in 2015. The project included building a new bridge near the existing bridge while maintaining traffic and then removing the old structure.
Hanson Ready Mix, then operating as Essroc, supplied 3,000 m³ of concrete. Slag, limestone, and silica fume blended cements were used to meet strength and performance specifications.
This photo is attributed to Public Services and Procurement Canada (PSPC).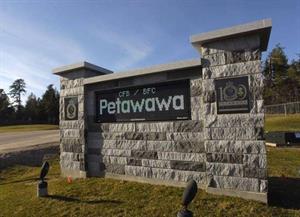 The Mattawa Plains Compound Project
The Mattawa Plains Compound will consist of nine buildings in total on Canadian Forces Base Petawawa's secure compound. These nine buildings are being constructed for the highly trained special forces personnel. This project started in November 2017 and will run 1.5 years, with majority completed slated by the end of 2018. In total, the Petawawa project will yield 28,000 m³ of concrete and approximately 8,400 tonnes of cement and slag.