Projects
​​​
Lehigh Cement Company is proud to serve residential, commercial and industrial clients with quality cement solutions. Whether your project is large or small, count on our team for total cement solutions in North America.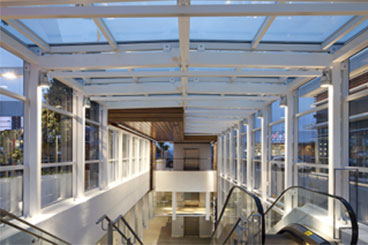 Highstreet - EcoCem®PLC
Project Name: Highstreet
Project Location: Abbotsford, B.C.
Owner: Shape Properties
Contractor: Graham Construction
LHC Affiliated Company: Rempel Bros Concrete Ltd
Project Facts: EcoCem – 8000mt. Total of 65,000m3 of ready mix concrete.
Project Overview:
Highstreet is a 600,000 square foot open-air regional shopping centre anchored by Walmart Supercentre, London Drugs, Marshalls and a Cineplex VIP Cinema. This three-level shopping centre features main street-style shopping and dining with one and two-story buildings on the upper podium level, and a Walmart Supercenter with 1,400 covered parking stalls on the lower level. The development's compact design delivers a higher order of density than traditional regional retail projects and is a Leadership in Energy and Environmental Design (LEED) certified project, which makes it one of the first in Canada for large scale retail projects.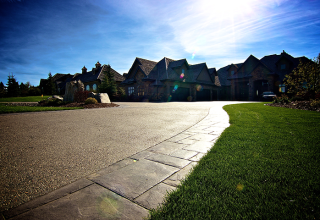 Driveway - InterCem®
This concrete driveway composed of Intercem® cement with exposed aggregate uses pea gravel to create a rugged and attractive surface. Regular concrete uses crushed aggregate; this aggregate is angular looking and is not as aesthetically pleasing as the rounded natural pea gravel. Pea gravel also gives the slab additional colours not seen in standard broom finished concrete. Exposed concrete will have a higher aggregate content, to create the desired look. These slabs are placed like a broom finished slab; however a retarder is applied to the surface to keep it from hardening. After the rest of the slab has hardened the surface paste layer is removed with a pressure washer to expose the pea gravel.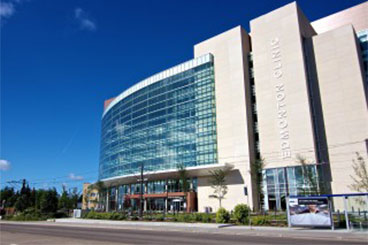 Edmonton Clinic - InterCem®
Project Name: The Edmonton Clinic South
Project Location: Edmonton AB
Owner: Alberta Health Services
Contractor: PCL Construction
LHC Affiliated Company: Inland Concrete Edmonton
Project Facts: 4500 tonnes of InterCem®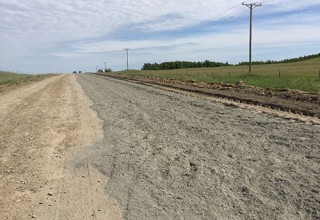 RM of Senlac - Road Upgrade - InterCem®
Project Name: RM of Senlac – Road Upgrade (cementitious subgrade strengthening)
Project Location: Village of Winter, SK
Owner: Rural Municipality of Senlac
Contractor: Whitford Construction
Project Manager / Consultant: Resource Management International Inc.
Unique Facts:
This particular stretch of road was continually prematurely failing due to high volumes of heavy truck traffic. The goal of this project was to improve the existing roadway to better withstand the high traffic volume and increase the life cycle of the roadway.
Project Facts:
•5.95km / 58,000m2 of cementitious subgrade strengthening.
•1,734 tonnes of Lehigh InterCem® used during project.
•Strength requirements: 3.5MPa @ 7 day and 7.0 MPa @ 21 days.
Project Overview:
•Each day on average saw approximately 120 – 160 tonnes of InterCem® delivered to project site.
•Product was transloaded pneumatically from highway tractor trailers to spreader units.
•InterCem® was 'roto-mixed' into the road at till depth of 200-250mm then cross bladed with grader to ensure transverse blending of all material.
•Final compaction of roadway with water added at consultant's prescribed rate.
•This particular project roadway was finished with an asphalt topping / wearing surface.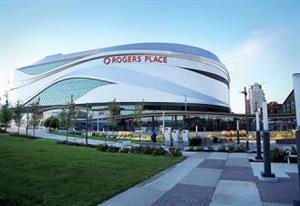 Rogers Place - SCM
Project Name: Rogers Place
Project Location: Downtown Edmonton
Owner: City of Edmonton
Contractor: PCL
LHC Affiliated Company: Inland Concrete

Unique Facts:

The foundation required S-2 exposure class concrete- meaning the concrete must be able to survive in an environment that is considered moderate to severe in terms of sulfates. Intercem® was used in this situation due to the high percentage of fly ash to mitigate sulfate exposure.

This project saw pours in which material was being pumped up to 500 feet. The fly ash component allowed the mix design to flow freely over long stretches of the property.

Project Facts:
Arena plus Casino used approximately 40,000m3 of GU with an average of 20% fly ash per meter and an additional 5,000m3 of Intercem® in the foundation.
3 year construction period in Edmonton's downtown core which required a strategic delivery schedule in order to maintain on time deliveries while mitigating public disruption.
Project Overview: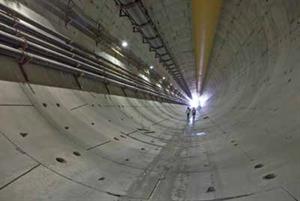 Miami Access Tunnel Project
The Lehigh Cement Company's slag cement was utilized for the Miami Access Tunnel project in soil stabilization and in the tunnel's precast concrete liners at 70% and 51% of the total cementitious materials, respectively. The design life for the concrete liners is 150 years. A mixture with cementitious materials proportioned at 39% portland cement, 51% slag cement, and 10% fly ash met the required design strength of 6000 psi (41 MPa). The appealing finished appearance of the concrete has led to a similar proportioned mixture being used in some of the architectural elements in the tunnel.
For more information, click here.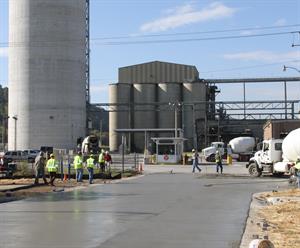 Leeds Street - EcoCem®PLC

Designed by Spencer Engineering, the 9th Street reconstruction in Leeds, Alabama, called for approximately 1800 square yards of 8" thick jointed reinforced concrete pavement (#6 bars at 18"x18"). The concrete was placed as a hand pour between the new curb and gutter sections with an approximate 5-6" slump.
Lehigh Cement Company utilized EcoCem®PLC our Portland Limestone Cement (PLC), also known as Type IL. By using both Fly Ash and PLC in the concrete mix, the street materials avoided nearly 50 tons of CO2 for the small project. In addition, the success of this project resulted in the use of this same concrete mix for the 7th Street reconstruction just two years later. Lehigh Cement has had a commitment to the adoption of sustainable cementitious systems for decades - we also used EcoCem®PLC in the Lehigh Cement loadout silo seen in the background of this street project. The silo was built with EcoCem®PLC and slag cement (for a 60% replacement of portland cement).
For more information, click here.