Heidelberg Materials' largest CCUS project globally
Mitchell Plant - CCUS
The Mitchell K4 project included the construction and completion of a new cement plant by Heidelberg Materials, replacing the former that had an over 50-year legacy in Mitchell, Indiana. The new plant utilizes the latest in technology and environmental controls to better support our existing customer base in the Midwest while also expanding our reach in this growing market. Heidelberg Materials' dedication to advancing viable carbon capture projects, a cornerstone of our ambitious sustainability objectives, and exemplifies our commitment to a Net Zero carbon future.
Growing With Indiana
During the past several years, Heidelberg Materials- formerly operating as Lehigh Cement, has worked with local and state officials to improve infrastructure surrounding the plant, which ultimately will benefit the surrounding community and new facility. This includes a road connecting the plant to IN-37, alleviating truck congestion from the center of town. Overall logistics will also change to accommodate additional rail activity to handle increased cement shipments from the plant.
Building Better And Stronger
Heidelberg Materials is committed to operating in a safe and responsible manner while manufacturing and supplying sustainable cement products for our customers in Indiana and the Midwest market.
Carbon Capture Utilization & Storage At Mitchell
A key component of our strategy for the future is to assess the potential to capture and store carbon dioxide, or CO2. This is essential for fulfilling our commitment to reaching net zero by 2050 at the latest, and to leading the industry in CO2 reduction. Heidelberg Materials North America has received funding from the U.S. Department of Energy to begin to evaluate the feasibility to capture CO2 from our production facility, and the potential to store CO2 below the plant property. At the end of the study period, we will have significant data to be able to inform us of the next steps, which include feasibility of construction and operation of a large-scale system with storage capacity at the Mitchell plant.
See us in the news
Here are some of the articles we've appeared in across the industry:
Published in Concrete Contractor
Jan. 17, 2023
Published in Informed Infrastructure - The Magazine for Civil and Structural Engineers
Dec. 21, 2022
Published in Pit & Quarry
Nov. 3, 2022
Published in World Cement
Sept.12, 2022
Published in Gasworld
Sept. 2, 2022
Published in World Cement
Sept. 2, 2022
Published in International Cement Review
Sept. 1, 2022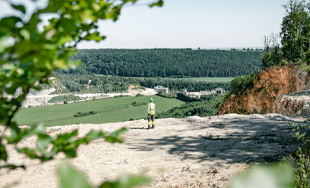 Sustainability Commitments
At Heidelberg Materials, we believe in taking action to preserve our planet. Our CCUS project is an industry game-changer, demonstrating our commitment to innovation in sustainable practices and environmental stewardship. By capturing and storing vast amounts of CO2, we're making significant strides in reducing greenhouse gas emissions and paving the way for a greener future.
The Edmonton Project will contribute to Heidelberg Materials' vision to lead the decarbonization of the cement industry. Actively contributing to the development of the new 1.5°C framework, Heidelberg Materials was the first company in the cement sector to have its targets endorsed by the Science Based Targets Initiative (SBTi) in 2019.
Learn more about Heidelberg Materials Sustainability Commitments