EcoCem® PLC
Concrete Just Got Greener
EcoCem®PLC is a Portland Limestone Cement (Type GUL or Type IL) produced using ordinary portland clinker ground with limestone, and is available in bulk and bag. Compared to CSA Type GU and ASTM Type I-II/AASHTO Type I portland cement, EcoCem®PLC contains as much as 10% more limestone using the same components and yields – with equivalent performance to ordinary portland cement.
Using innovative technology to increase the amount of limestone and decrease the amount of clinker, Heidelberg Materials has reduced both the energy required to produce EcoCem®PLC and associated emissions, making EcoCem®PLC the green alternative to ordinary cement with a smaller environmental footprint. Additionally, EcoCem®PLC can be used in concrete that will be exposed to moderate sulfate conditions.
PLC products have been well established in Europe for decades and Heidelberg Materials is proud to lead the introduction of this sustainable product to North America. EcoCem®PLC is a cement which can be substituted directly for normal Type GU or Type I-II portland cement in general use applications.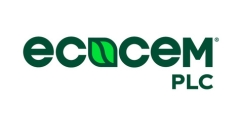 For help with technical information, specification language, and environmental calculators, check out PCA's GreenerCement.com
For additional information, see the American Concrete Institute's article on the Durability of Portland Limestone Cement Concrete.
EcoCemPLC™ meets the following USA Standard Specifications:
ASTM C595 (also referenced in the ACI 318-19 Building Code Requirements for Structural Concrete)
ASTM C1157
AASHTO M240
ASTM C595 TYPE IL (MS) limestone blended cement is equivalent to ASTM C150 Type I-II portland cement in concrete compressive, concrete flexural strength and concrete durability. It is allowed in sulfate exposure class S0 and S1 (ACI 318-19 Building Code Requirements for Structural Concrete, Table 19.3.1.1), the same as ASTM C150 Type I-II cements.
EcoCem®PLC meets the following Canadian Standard Specifications:
View our Canadian EcoCem®PLC brochure or our Canadian EcoCem®PLC product data sheet. In addition to the EcoCemPLC™ our Delta BC and our Picton ON plants, Heidelberg Materials has developed EcoCem®PLUS at our Edmonton AB plant. EcoCem®PLUS is an innovative blended limestone Portland cement. Click here to learn more about EcoCem®PLUS.

Learn more about Heidelberg Materials' sustainability commitments and environmental product declarations (EPD's).