Specialty Cement
True to Type: Mortars That Match Performance with Consistency
Masonry cement is mixed with sand and water to produce mortar for brick, block and stone construction. Mortar is the bonding agent that forms individual masonry units into a wall.

Lehigh Hanson's STONE-HOLD Premium cement is an excellent choice for today's stone construction applications. It provides optimal bond strength while maintaining excellent workability. This proprietary formulation also improves resistance to cracking during freeze/thaw cycles. Why settle for less than the ideal? Ensure the long-term strength and aesthetic value of your project with Lehigh STONE-HOLD cement formulated for stonework applications.
STONE-HOLD cement is a construction grade cement designed for the installation of manufactured and natural stone. STONE-HOLD can be used as a bond coat, scratch and brown coat and as a mortar joint grout over concrete and masonry surfaces or galvanized, expanded metal lath. STONE-HOLD cement for stone work should be used in accordance with local building codes. Consult all instructions and requirements provided by the stone manufacturer prior to installation.
To see our STONE-HOLD product data sheet, click here.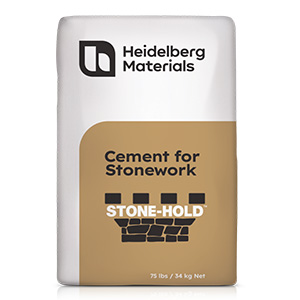 Products and Standards
Mortar cement is covered by ASTM C1329, Standard Specification for Mortar Cement.
Mortar must conform to ASTM C270, Standard Specification for Mortar for Unit Masonry.
Mortar cement, a relatively new designation, was developed for demanding structural applications and features higher strength and lower air content than masonry cement. It is the only cement for mortar that must meet a minimum bond strength. For that reason, it conforms to a separate ASTM designation, C1329, Standard Specification for Mortar Cement.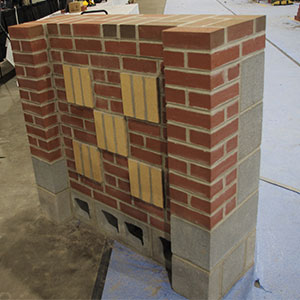 Resources and More Information
NCMA Solutions Center,TEK documents, building codes and specifications
https://ncma.org/resources/tek-solutions-center/?IDSponsor=37
ASTM C1329, Standard Specification for Mortar Cements
https://www.astm.org/Standards/C1329.htm
ASTM C270, Standard Specification for Mortar for Unit Masonry
https://www.astm.org/Standards/C270.htm
The Brick Industry Association
http://www.gobrick.com/