Vaults
Vaults are square manholes which can be used to access pipelines, water meter chambers and underground detention tanks. Vaults differ from other flat-sided manholes because they have a precast floor and roof molded as a solid unit into the product, enabling a complete manhole to be installed with only two precast pieces.
Vaults are manufactured in our Calgary plant. View our catalog for more information.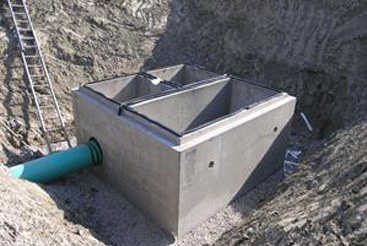 Square vaults are manufactured in sizes 1.2m x 1.2m to 2.8 x 2.8m in internal span. Vaults typically come in standard heights, and vault risers can be provided to accommodate higher pipe elevation differences, weir walls or special equipment. Vault sections can also be made shorter than the standard height to house shallower pipe installations.

Access openings and pipe connections for vaults are highly customizable. Vaults typically come with formed or cored openings for pipe which make connections simple. Oval-shaped holes can be provided for angled pipe entries. Openings can be also customized to include flanges, boot-style connectors, load-bearing plates or other accessories.

Vaults are manufactured with a standard manhole access opening in the roof but can also be designed for use with access hatches or special gratings when required. Vaults are normally designed to withstand CL800 Truck Live Loading as per the CHBDC S6. All vaults are made to order.
Vault Product Applications:
Standard storm and sanitary manholes
Water meter and valve chambers
Skimming manholes
Lift stations and pump stations
Pond control structures