Industry & Design Resources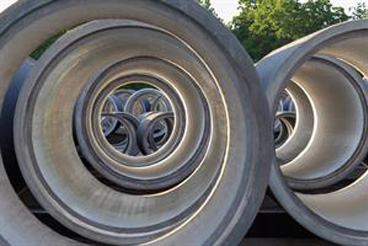 Installation Information
Swift Lift System:
Used on most precast products, the Swift Lift System is a connect/disconnect system allowing precast concrete elements to be handled quickly, repeatedly and safely. Swift Lift pins are cast into our products at the time of manufacture. Installers will need to have the appropriate Swift Lifting Eyes (clutches) on site. Depending on the product, four ton or eight ton lifting eyes will be required. Swift Lifting Eyes are available for purchase from Heidelberg Materials. Please contact our sales office for pricing.
Gasket Installation:
Rubber gaskets can be installed along with concrete pipe and manholes to create a watertight connection. Click here for a quick guide on how to properly install a self-lubricating gasket in round pipe and manholes. If you have any further questions about concrete pipe and manhole gaskets, contact us.
Installation Guide:
Proper installation of concrete pipe and boxes is crucial to ensuring pipelines perform to the designer's requirements, both structural and otherwise. The American Concrete Pipe Association (ACPA) has conducted years of comprehensive analysis and research on the performance of buried concrete pipe and boxes. The knowledge gained through these many years of experience is presented in the following guide. Please note that this manual is intended as a guide and does not supersede any specific project specifications. To view ACPA's Concrete Pipe & Box Culvert Installation Guides, click here .
Standard Installation (Beddings)
The Standard Installations (Type 1, Type 2, Type 3, and Type 4) are four standard beddings for concrete pipe that reflect the many factors affecting the pipe-soil system. A Type 1 Installation requires the highest level of compaction and the highest quality granular material; a Type 4 Installation requires the lowest level of compaction and lowest quality bedding material.

The Standard Installations were developed through years of investigation and research into the behavior of concrete pipe in buried conditions. The Standard Installations provide both the designer and the installer with quantifiable, versatile, and conservative soil types and compaction levels for the material used in the installation. These installations facilitate the design of a rational and cost-effective concrete pipe soil system by providing an optimum range of installation characteristics.

Click here to view ACPA's Standard Installations Guideline
Click here to view ACPA's Standard Installation & Bedding Factors for Indirect Design Model
Post Installation Inspection
Post Installation Inspection is an effective way to evaluate newly installed pipe systems. As Post Installation Inspection data is generated and presented to owners, engineers, contractors and inspection professionals, the need to properly and efficiently evaluate the identified issues becomes critical. Decision-makers must be trained to differentiate between conditions that require remediation and conditions that are purely aesthetic.

Click here to view the AASHTO Post Installation Evaluation and Repair of Installed Reinforced Concrete Pipe, which includes matrices to help aid decision-makers in properly evaluate cracks, joints and slabbing in reinforced concrete pipe.
PipePac Software Solution
Need help designing your buried infrastructure system? The free web-based PipePac software helps select the right material for the job. PipePac consists of three independent programs: Structural Calculations (3EB), Cost Analysis of Pipe Envelope (CAPE), and Life Cycle Analysis (LCA).

The 3EB program helps to analyze what structural capacity of pipe is required based on the specific site conditions. 3EB computes the earth and live load on the buried concrete pipe and relates the supporting strength to the strength obtained in a Three Edge Bearing test through bedding factors.
The CAPE program helps estimate the cost of different installations for both flexible and rigid pipes.
The LCA program promotes more cost-effective project designs by analyzing the true cost over the design life of the project.
Please contact us for additional information on PipePac or to set up a presentation for your group. Click here to use PipePac Software.
Pipe Design
The Concrete Pipe Design Manual is a must-have for anyone planning to design using concrete pipe. The Manual helps engineers specify and select the type, size and strength requirements of concrete pipe. The manual includes information on standard installations using the indirect design method, hydraulics of sewers and culverts, live loads and earth loads, supporting strengths, supplemental design data, and much more. Various tables, figures, and detailed example problems help to improve understanding of how to design with concrete pipe.
Manhole Sizing Guidelines
Many specifications, such as municipal specifications, explicitly state the minimum manhole diameter allowed based on the diameter of the incoming pipes. However, there are also physical and structural requirements that may require the manhole diameter to be increased based on the quantity and orientation of the entering pipes.

Illustrations of standard maximum allowable pipe diameters for various manhole diameters are available for Alberta and Manitoba/Saskatchewan. If you are unsure what size of manhole would be required for your specific project, contact us.