Manholes
Manholes are typically used to provide access to pipelines, junction points, valve chambers, sump pits, and underground detention tanks. Heidelberg Materials provides manhole drawings for Alberta, Manitoba, Saskatchewan, and British Colombia.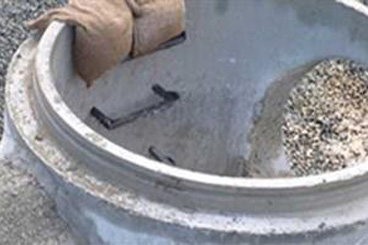 About Manholes
Precast circular manholes are manufactured in 900mm to 3000mm nominal diameters. Manhole riser sections in diameters up to 2400mm are stocked in standard 0.3m, 0.6m, 0.9m, and 1.2m heights. Manhole sections can be customized to suit unique project specifications by adding flat bases, prebenching, cored holes and flexible connections.
Manholes are Manufactured to Meet the Following Standards:
ASTM C478 Standard Specification for Precast Reinforced Concrete Manhole Sections
CSA 257.4 Standards for Concrete Pipe and Maintenance Hole Sections
Flotation of Concrete Manholes:
Flotation of concrete manholes is calculated in a similar manner to flotation in concrete pipe. In areas where flotation is a concern, Inland Pipe can manufacture manhole sections with extended bases, helping to resist flotation by increasing the size of the failure cylinder and adding additional anchoring force by providing a cone of soil above the extended lip. For more information, click here.
Manhole Sizing Guidelines:
Many specifications, such as municipal specifications, explicitly state the minimum manhole diameter allowed based on the diameter of the incoming pipes. However, there are also physical and structural requirements that may require the manhole diameter to be increased based on the quantity and orientation of the entering pipes.

Illustrations of standard maximum allowable pipe diameters for various manhole diameters are available for Alberta, Manitoba/Saskatchewan, and British Columbia. If you are unsure what size of manhole would be required for your specific project, contact us.
Manhole Drawings
Detailed dimensions are provided on drawings for all our standard Manhole products to assist with your design projects.
Please contact us if you require additional information.